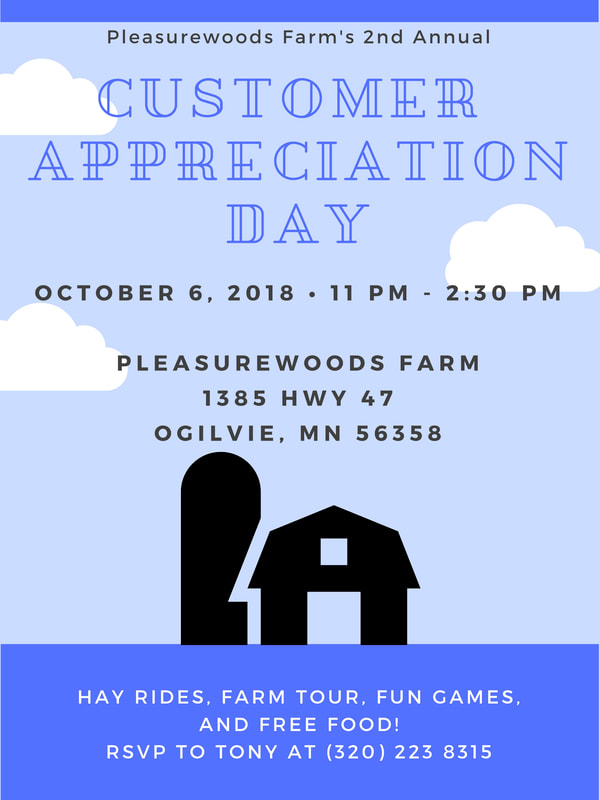 September 5, 2018
Come one, come all to celebrate the fall!
Sharing in the joy, whether you are a girl or a boy..
Young and old, hopefully it is not too cold.
A day full of fun and charm - when you come to visit the farm!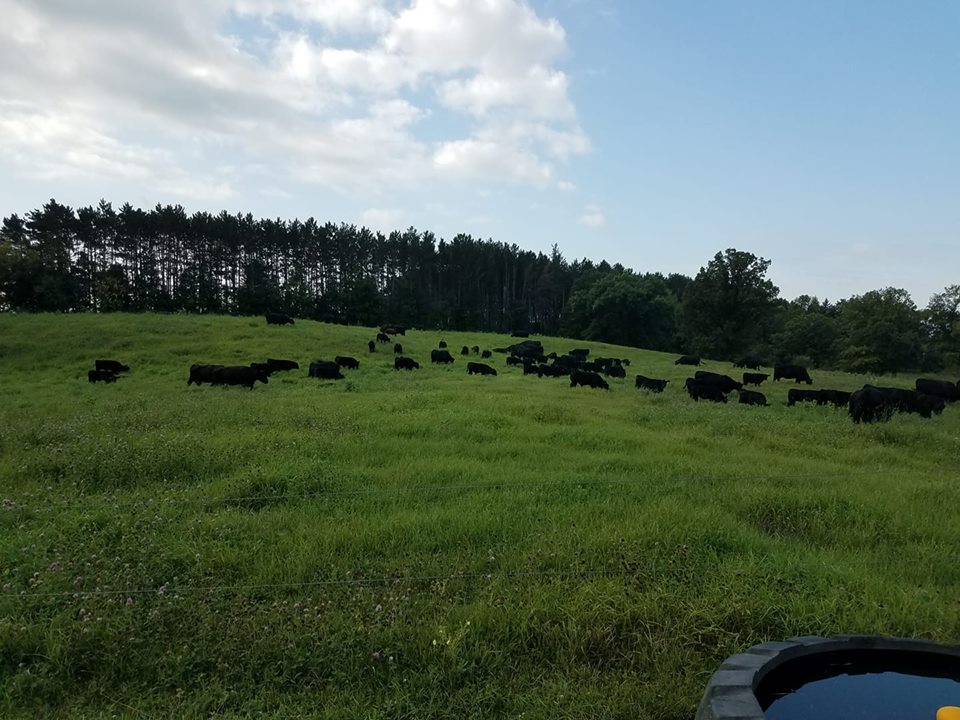 September 4, 2018
We want to give a shout out to Kathy Swenson - the winner of the drawing for $25 off her next order!
Stay tuned for future giveaways and events.

The next big even is out 2nd Annual Customer Appreciation Day on Saturday, October 6th from 11:30-2:00. Even if you are not a customer yet, we welcome you out for a tour, meal, and to learn more about where your meat comes from. All we ask is that you please RSVP so that we can have enough food!

We also recently restocked our hamburger supply and our Grass Fed animals are almost ready for butcher, so order now!

P.S. It's hard not to share a picture of these happy girls just being moved to fresh grass.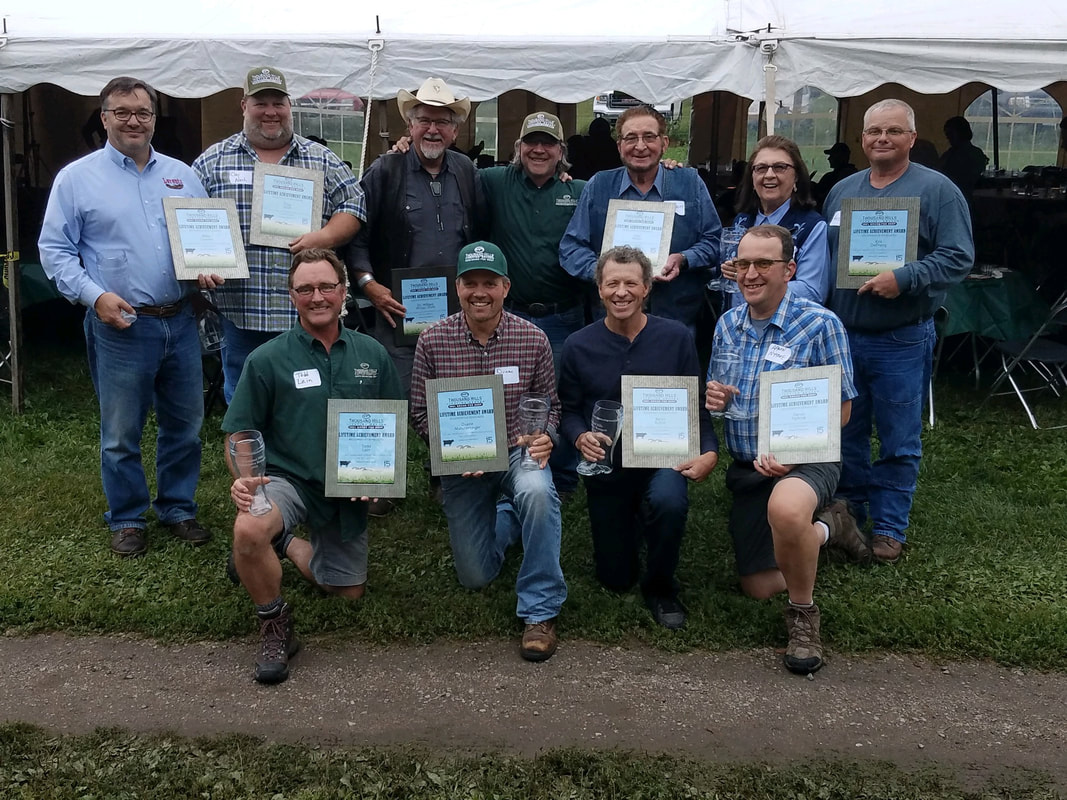 August 23, 2018
Duane was honored by Thousand Hills Cattle Co. as one of two producers who has loyally committed to improving the food system for the last 15 years!
May 21, 2018
With the help of many volunteers (thanks Mora, FFA!), we enjoyed inviting 264 third grade students from area schools (Ogilvie, Mora, Braham, and Isanti Intermediate) to check out the farm. Duane had the opportunity to attend class on various days to teach the third graders a couple of the elements that go into "farm life" with the promise of a field trip soon to follow the lecture. The initial complaints of "farm smell" were soon gone as they enjoyed the cows, calves, cats, horse, farm trivia and - of course - the barn swing! Also, the kids were each given beef sticks that were donated by Thousand Hills Cattle Co. A huge thank you to all who donated their time or resources to make this educational opportunity a reality.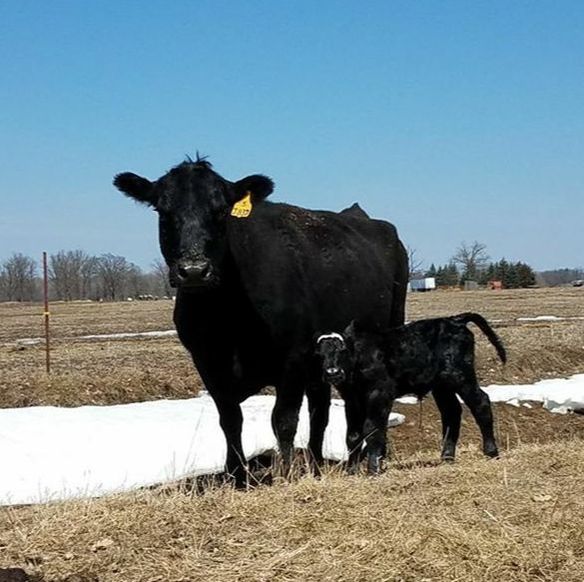 April 23rd, 2018
Here's the newest member of Pleasurewoods Farm! It's hard to believe just a week ago we got done experiencing a blizzard and today we are getting sunburnt and saying goodbye to the last of the snow! We won't complain though, and either will these two.

April 12th, 2018
​Welcoming our new arrivals!
👶
Today marked the beginning of calving season at Pleasurewoods Farm with the birth of our first bull calf - born this morning at 5 a.m., 70 lbs 12 oz
😁
While we typically like to have the cows deliver on the pasture, the late spring has forced us to adjust our methods to ensure safe delivery of health babies. Happy Spring!
March 1st, 2018
Happy Spring! With a new season comes new farm updates..
*We are now accepting Venmo and PayPal!
*Incentive program kick-off: every referral of a new buying customer is $10 off your next order
*Mark your calendars now for 10/6/2018 - 2nd Annual Customer Appreciation Day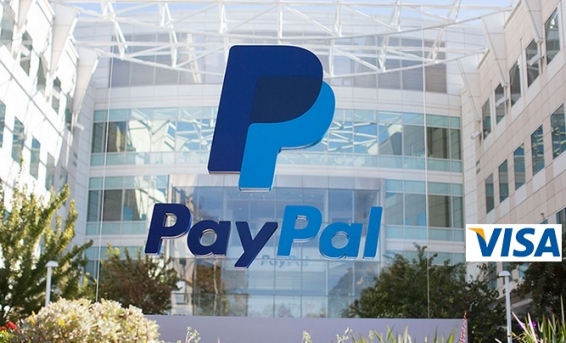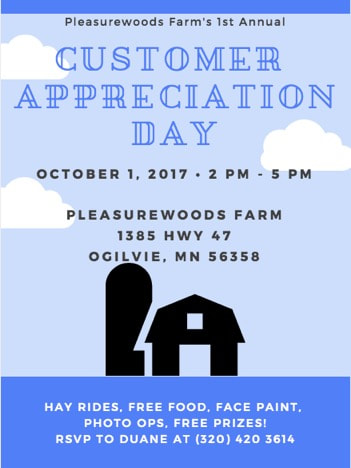 September 13th, 2017
Come one, come all to the FIRST ANNUAL Customer Appreciation Day!
It's an afternoon we set aside to show thanks to you - the customer - and to give you an insider's persepctive of life on the farm!
Please RSVP to Duane so that we can know how much food to prepare.
Hope to see you there! :)
July 15th, 2017
Beautiful summer days make for good haying weather! During the winter, the cows eat the balage that is made and stored up during the summer. It takes all hands on deck as it is ends up being a timely process, but the end result is well worth it: highly nutritious balage for the cattle!
The haying process is as follows:
1. Cut the hay (with the disc-bine)
2. Rake the winrows together (with a V-rake)
3. Bale into 63 inch bales (with a silage special baler)
4. Haul the hay to the bale lot [where it will be stored] (with a bus-frame trailer)
5. Wrap the bales with 1 mL silage film in a continuous line (with a line-wrapper)
May 18th, 2017
​Spring time is very busy on the farm! Not only did all of the cows and baby calves get hauled out to new pastures, but the yearlings were brought home from their winter pasture and put on fresh grass. Here they will be intensively grazing until roughly November.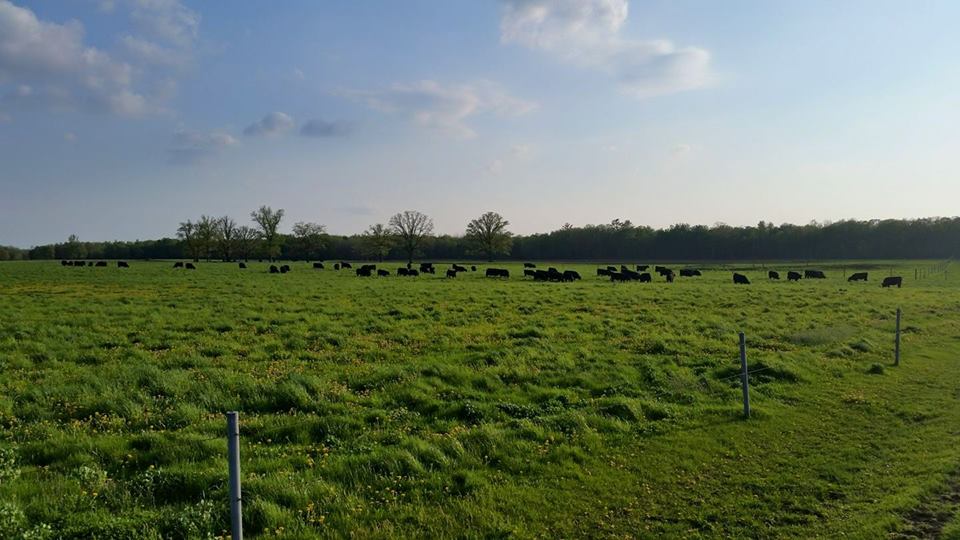 ​May 5th, 2017
It's that time of the year again when we take orders for beef for the coming year. We will again be requesting a $100.00 non-refundable down payment, to hold your order. Sorry if this is an inconvenience for anyone. It has also been brought to our attention that making payments prior to the beef becoming available is sometimes easier to pay for it, so that will be an option too on an individual basis.
We will again be having 2 options this year:
Option 1 -Grain finished natural beef that will be available starting
in two weeks
! This is all natural (no antibiotics or growth hormones) but has had some corn in the last months. The price for this will be $2.20/# hanging weight plus processing.
Option 2- 100% Grass Fed Natural beef. Never antibiotics, hormones or grain. This will be available starting the third week in October. The price for this will be $2.60/# plus processing.
Please specify which option you are interested in. The sooner we get your order the more likely that we will have it available. Also down payments must be made by
July 1
to hold this price; after they will be subject to change as markets may be changing greatly due to China now accepting US beef and the demand increasing. We will also have ground natural beef available by the individual package starting the end of August for those who are interested. This is all natural, may have had some grain in its lifetime, but not within the last 3 years. The price will be $4.50/# and they will be in 1 pound packages unless otherwise specified before we bring the beef in (contact us for special sizing). We are also interested in feedback on processing facilities, please call Duane at
320-420-3614
or email us with that information. As always feel free to call Duane with questions!
April 5th, 2017
Calving Season has begun!
Follow us on
Facebook
: @pwfnaturalbeef or
Instagram
: @pleasurewoodsfarm